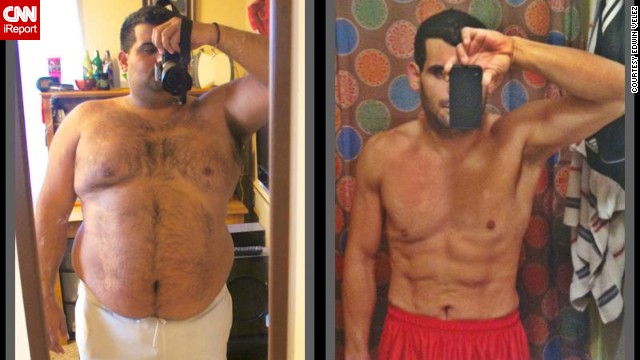 I was going through CNN website yesterday and saw this, and decided to share with you guys. Yes its the same person! Weight loss is definitely possible, not matter how far you may think you are from your goal. The mans name is Edwin Valez, and in his before picture he weighed 140kg.
So how did he do it? How did he manage to lose a whooping 70kg?
According to him, he explains that he grew up in a family where thier staple food was mainly, rice, beans, and fried foods. And he kept on with that diet even as he grew up. He ate what ever was available and cheap, hamburgers, high carb meals, fries and the likes.
Eventually he realised where he was heading for, and decided to take control of himself.
He set a goal to lose 45kg in the first year. Thats 45 kg in 12 months. He then changed his diet and his routine. He started walking for 45 minutes every morning. Now this is what i like about this.

Firstly, he set a realistic goal. Most time, setting unrealistic goals (i have heard from 10kg a month to 20kg a month) sets you up for failure. Why? Because when you dont achieve those goals at the rate you want, you tend to lose interest. Secondly he started with something mild. Yes i am all for hard-work and putting in hours at the gym or in your workouts, but its important to start with something you can do. You cant go from no exercising to 40 minutes of insanity workout. I have seen some unfortunate cases of people who were grossly overweight and not in shape try vigorous exercises and get hurt.
Back to our story, in no time, he realised he was strong enough to jog, and then he started jogging. By the time he had lost 18kg, he then decided to add strength training to his workouts. This was to help him tone his body and build muscles. Muscles are extremely important for weight loss and maintenance of the weight lost. I wrote a little about this here.
For his diet how did he modify it?
Well, he went all out. He totally cut off all soft drinks and bottled/artificial fruit juices, all sweets and carbohydrates. He focused on high protein foods : fish, chicken. And for his carbs, he got his carbohydrate from healthy sources: fruits and green vegetables.
His goal was 45kg in a year, but by 14 months, he had lost 70kg! He is so excited that he is still sticking to his healthy eating and his workouts.
Where exactly are you now? Do you think its too late for you to start losing weight? Are you discouraged because you have tried several times and failed? Well, there is no harm in trying again. Honestly. So many of the women on our forum are losing weight, and you can too!
Click here to see our success stories and pictures: http://africanweightloss.com/forum/index.php?board=3.0
IT IS NEVER EVER TOO LATE TO START!!!